The sudden death of investigative reporter, Andrew Breitbart, is quite a coincidence.
Andrew died the same day that Sheriff Joe Arpaio's Cold Case Posse was about to hold a press conference on the Obama fraud.
Just hours before Andrew collapsed on a side walk after attempting to return home from a local bar, he had interviewed Sheriff Joe about his evidence of felony crimes and cover ups in the Obama administration, relating to Obama's eligibility records.
The state controlled media didn't waste any time getting in front of this story, claiming that the Los Angeles Coroner thought Breitbart died of natural causes, not from the usual Chicago disease of lead poisoning.
The toxicology reports are still out and many people believe that he may have ingested something at the bar, or fell victim to an electronic pulse attack, which would make it appear that he died of a heart attack.
Andrew Breitbart made quite a few enemies along the way as he exposed corrupt politicians, government waste, fraud, and abuse.
What seems diabolical, is the fact that Breitbart gave a speech at CPAC last month stating that he had tapes of Obama in his younger days which will expose him, and he planned on showing them on March 1st, the same day that he died.
It seems all of my life I've been hearing about government conspiracies, such as Lee Harvey Oswald acting alone murdering President John F. Kennedy, with such highly suspect manner of rifle marksmanship. Almost a miracle for a mediocre shooter with a bolt action rifle to fire off those shots in such a short time span.
Then we have Jack Ruby, the seedy burlesque club owner, breach the Dallas police security line, to shoot Oswald before he could be questioned about Kennedy's death.
Coincidentally, Jack Ruby died in jail, also of natural causes.
Ol' Paint, Hillary Clinton's White Water pal, and Deputy White House Counsel, Vince Foster's suicide reads like a magic trick.
The Washington D.C. Park Police reported that Foster parked his car in the parking lot of Fort Marcy Park and walked about 100 yards to the spot where he chose to commit suicide.
The police claim that he shot himself in the mouth, but no bullet was found. Remnants of an old civil war revolver were found near the body on the ground. His shoes were shined to a high luster, with out a speck of dust on them after trekking over 100 yards of dirt.
A suicide note was discovered in his brief case, torn into 27 pieces. When deciphered, briefly paraphrased it read, everybody in Washington D.C. sucks except for the Clinton's, they are good people.
Investigative Reporter, Christopher Ruddy in his book, The Strange Death of Vincent Foster: An Investigation, claims that Fosters car didn't appear at Fort Marcy Park until about one half hour after his suicide … neat trick!
Most pundits consider conspiracy theorists to be nut cases, and, or paranoid, while the conspiracy theorists consider the media, corrupt provocateurs, and part of the cover up.
After all, being paranoid doesn't necessarily mean that somebody is not after you.
Let's get real!
Washington D.C. is one giant conspiracy against the people. It has been transformed from a government of the people, to a punitive nanny state, breeding fear and intimidation on society at large.
You don't have to be paranoid to feel the omnipotent presence of an over burdening, nanny state, sticking it's massive tentacles into every aspect of our lives.
You don't have to be a nut case to believe that we have an out of control government that wants to enslave it's people and rule them, rather than represent their interest.
Sometimes, us nut cases concentrate on the wrong things and over look the obvious.
We look past the things that are staring us in the face and concentrate on older issues, such as Obama's birth certificate, or his fraudulent social security number, or fictitious draft registration, when we should be looking at the bigger picture, while planning ahead by starting to activate the militias for future security, or citizens arrests.
We already know that Obama is a fraud. He is being protected by traitors and used as a diversion, just like Slick Willy Clinton's soap opera romances were used as a diversion, while the Communist Chinese were stealing our nuclear secrets out of the back door of the White House.
Just as George Bush, and former Treasury Secretary, Henry Paulson, used economic hysterics as a diversion to loot the United States Treasury, and these chumps are still free, out walking around on our streets, unlike Breitbart.
These guys are merely the front men for the shadow government who call the shots from behind the scenes.
They are the creeps who need to be exposed, but in order to get to them, we need to go after the confederates who allow these parasites to operate with impunity.
We have to go after the traitors who are sitting in breach of their oath, by offering these traitors aid and comfort.
A good place to start hunting would be with the establishment Republican leadership. John Boehner, and Mitch McConnell, have done everything in their power to surreptitiously keep this tyrannical president in office, in spite of their "Pledge To America."
Every time this fictitious president screws up and buries himself in his lies, they resurrect him and bring him back to life, smelling like a rose, rather than the turd that his Socialist philosophy represents.
During the past election, we heard every Republican, indignantly claim, that they were going to repeal Obama's Health Care monstrosity, over, and over; ad nauseam!
Senate Minority Leader, Mitch McConnell told his colleagues that he does not want to vote again on repealing President Obama's Health Care Reform Law until after the November elections.
Last Thursday, the Senate voted 51-48 to kill an amendment which would weaken the Obama administrations policy requiring employers to provide birth control to their employees, a clear violation of the United States Constitutions First Amendment.
The Senate voted to table this measure proposed by Senator Roy Blunt (R-MO) which would have let any employers opt out of health care coverage mandates that violate their religious, or moral beliefs.
Three Democratic Senators voted with the Republican's against tabling the amendment; Joe Manchin ( W.VA) Bob Casey ( PA) and Ben Nelson (Neb). Casey and Manchin are up for re election this year.
House Speaker Stooge, John Boehner offered few details about how the House intended to take up the issue.
He must be waiting to be told what to do in his status as useful idiot for the Socialist slave masters.
Boehner also lacks credibility on the Fast and Furious Gun Running investigation.
Doug Book, of the Western Center for Journalism writes that, Congressman John Boehner, the House Speaker better known for displays of weeping than courage, is reportedly cutting a deal with Attorney General, Eric Holder, which would provide a mutually satisfactory out come in Barack Obama's criminal gun running endeavor, Operation Fast and Furious.
The weepy Speaker will officially let the most corrupt Department of Justice head in the nations history off of the hook for complicity in this regimes murderous scheme to savage the Second Amendment Rights of citizens, and Boehner will be pleased to sell them out in order to lay claim to the pathetically comic mantle of a tough- minded Republican.
Matthew Boyle, a reporter with The Daily Caller, reports that Boehner and his staff have slowed the Fast and Furious probe from the beginning, and it was Boehner, who prevented Representative Darrell Issa from filing a charge of perjury against Holders testimony which proved to be an out right lie.
Many Republican Senators think that they should bring up a repeal vote on the Health Care Law regularly, weekly, to illustrate it's unlawfulness before it goes to the Supreme Court for an opinion.
Weasel McConnell disagrees, and claims that it may give some vulnerable Democratic Senators a chance to vote for it and provide political cover while the rest of the nation suffers.
McConnell also stated that some of the provisions of Obama Care are appealing to voters, such as the preexisting condition coverage, and coverage for children up until age 26.
Age 26?
My company commander in Vietnam was 24 years of age. Maybe we should have invited his parents down to join us in a hot LZ?
Better yet, maybe we should ship out all of these feckless politicians and send them on a mission to Afghanistan, to burn Koran's.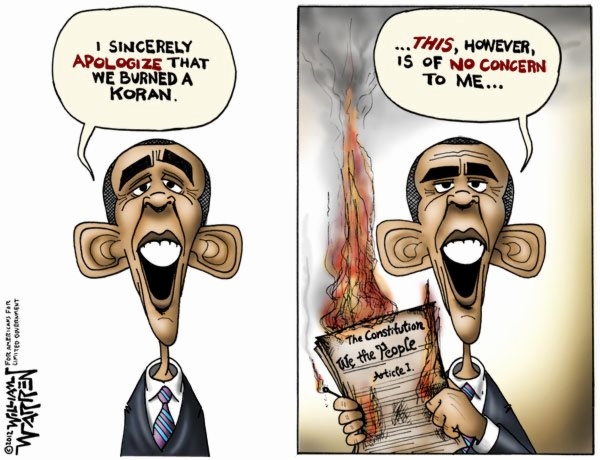 Then we could really start feeling an economic boom.
This could be the change most American's were hoping for, after all, while our leaders are all engaged in folly, most American's are being challenged on a daily basis to face a moral dilemma.
Our neutered society has been taken for a ride by wily and conniving con artists, imposing laws contrary to our manhood.
Do we play it safe and obey unconstitutional laws, or do we follow the example of our founders, facing the risk of losing our family's, our property, or our fortunes, by challenging these subversive tyrants, and ending their reign of terror against American citizens?
March 4, 2012
~ About the Author ~

Federal Observer contributing columnist Rick Biesada is the co-founder of The Chicago Minuteman Project.
Angry White Male and The Horse He Rode In On by Rick Biesada can be special ordered through most book stores, or through the publisher at wholesale price off of the Angry White Male web site at http://www.stylefeeder.com/i/pf0v5r2j/Angry-White-Male-And-The-Horse-He-Rode-In-On-By-Rick-Biesada-Paperback.