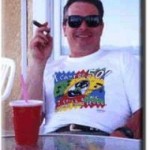 Part 2 of 3: If you didn't read, "Let's See What This Jury Does", you should read it as a primer. It is an accurate detail of a possible murder that resulted in murder charges being filed against an unlucky guy named Simmons, who was the last known person to see the victim alive — and nothing more. No… I mean NOTHING more! There is NO evidence of any value against William Simmons for the murder of Kaelin Glazier.
We just got rid of a completely corrupt local judge in Raymond White, who literally directed a wrongful guilty verdict against Joshua Brewer in a Medford Police trumped-up medical marijuana case — felony convictions the Southern Oregon Militia just got reversed on appeal. Judge White announced his retirement not long after Brewer was wrongly convicted.
Now we have Judge Benjamin Bloom presiding over the Simmons trial, and he just showed his hand.
Simmons was charged with murder in the death of Kaelin Glazier. Here in Oregon, a serious crime like murder requires all 12 jurors to find guilt, but for lesser crimes like manslaughter, only 10 of 12 jurors must find guilt. I know that will shock many of you, because the standard for all criminal convictions requires all 12 jurors to agree. Oregon and Louisiana are the only two states that allow 10 of 12 jurors to decide "lesser" criminal cases. As a result, hung juries almost never occur, and the conviction rate in Oregon is understandably quite high when they stack the odds against criminal defendants as I have described. If the local cops weren't so corrupt and didn't routinely lie on reports and on the stand to enhance their conviction rate, some justice might prevail from time-to-time, but when you have lying cops, a lying DA and judges willing to stack the deck against defendants who are judged by some of the most vicious, mean-spirited people ever to serve on a jury, that is a recipe that is more than sufficient to convict innocent defendants — and they do it all the time here.
So yesterday, and overruling against Defense Attorney Michael Bertholf's strenuous objection, Judge Bloom informed the jurors that they could find Simmons guilty of manslaughter if they couldn't agree on a murder conviction! Oh, and that's not all. Judge Bloom allowed District Attorney Mark Huddleston to "suggest" to the jury that Simmons had sexually assaulted Kaelin Glazier and that was his motive for killing her. The only problem with that "suggestion" is that there is absolutely no evidence at all that anything more than a friendship between Glazier and Simmons ever existed. At least in the Casey Anthony trial, the prosecution had computer searches for Chloroform to "suggest" Casey Anthony had used it on her daughter. In the Simmons case, no evidence of any kind indicated such a sexual assault. DA Mark Huddleston just made up the whole thing out of thin air and was allowed to tell the jury about his little fantasy by corrupt Judge Benjamin Bloom.
These are the kinds of games they play here in Southern Oregon. Judge Bloom has literally paved the way for a wrongful conviction of murder by allowing Huddleston such great latitude, and he has also hedged the bet for the prosecution by allowing a verdict on the manslaughter charge in case a couple of jurors are holding out for acquittal on the murder charge. If only 10 jurors out of 12 favor conviction, they can still send Simmons to prison for manslaughter, which is a crime for which there is no evidence against Simmons either. But knowing how mean-spirited and vicious these local jurors generally are, the chance of Simmons being found guilty of something is now much higher than had he faced only the murder charges — and Judge Bloom knows that very well.
As I write this, the jury is in deliberations. The case against Simmons is so non-existent that any responsible judge would have dismissed the case for lack of evidence long before the jury ever got it. But now that Bloom has showed his hand we know the fix is in. The only thing that stands between this corrupt justice system and Simmons is a jury of his peers, and these local, "peers" are some of the most negative, judgmental and willing to believe the worst about others that I've ever encountered anywhere.
The psychologists call their little affliction, "projection". Look it up, sometime.
A lot of people attend church in this region, but to tell you the truth, I've never attended any church in this area because I have yet to meet a true Christian that inspired me to attend their church. That is a sad fact, but it is absolutely true. I don't know what these local Christian pastors are telling their flock, but what I do know is that what I see playing out in this area every day is not a reflection of decent Christian people — at all!
Carl F. Worden
Liaison Officer
Southern Oregon Militia
February 14, 2012