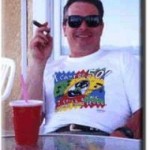 It looks like Greece is about to completely default and be ejected from the European Union. If the majority of the pundits' fears prove true, it will result in a domino-effect for Italy, Portugal and Spain, among a few others. As a result, the actual and psychological effect could very well cause the Stock Market to plummet, but unlike the ups & downs that normally occur, this time I see the Market falling — and keep falling. If you are invested in stocks in any way, be it a 401k or a regular stock portfolio, you could lose a lot of money that will not come back as it has in the past. The European economic disaster is going to drag the entire world economy down with it, including the U.S. and even China.
The Occupy Movement people don't really understand the exact cause of their pain, which is why in interviews, the protesters seem to be just plain angry at everything in general. Principally, they are angry because they don't have jobs waiting for them upon graduating college, instead being socked with a nasty student loan they can never file bankruptcy against — or pay off. If you ask the average Occupy protester how he or she feels about former President Bill Clinton, nine out of ten would gush praise for the man, yet it was President Clinton who in 1994 signed the free trade agreement called NAFTA, the North American Free Trade Agreement. It was that act which set into motion all the problems facing the United States today, but because it took so long to have a felt effect on the majority of Americans, nobody remembers Ross Perot's dire and dead-on accurate warning that prime, family wage-paying jobs would leave the United States en masse. The job losses didn't sweep America right away, so Americans went about their lives not realizing NAFTA was the most destructive and treasonous act ever committed against the United States and its citizens. Just to show you how uninformed people are, the last time I saw an approval rating for former President Clinton, it was a solid 55% — far more than our current president has. That is how sadly ignorant the average American is.
Now here is where it gets interesting: Bill Clinton signed NAFTA into law against the wishes of his own Democrats! That's right, Occupy protesters, your demi-god Bill Clinton entered into an unholy alliance with corporate-lap dog congressional Republicans to set America on its path to ultimate economic destruction which just might manifest itself in a huge way this coming week beginning January 16, 2012. It was President Clinton and the Republicans who caused this flaming disaster, and nobody is writing about it except a few people like me — and Ron Paul.
What led to NAFTA was pure greed on the part of corporate America. In order to take advantage of low labor costs in other nations, the trade protections and tariffs that protected highly paid American workers from unfair foreign competition were dropped with the enactment of NAFTA. The moment those trade protections were eliminated, our large, multi-national corporations went to work building manufacturing plants in China, Mexico, Indonesia, etc. Once those manufacturing plants were complete and low-paid foreign employees hired and trained, our corporations began laying off their American labor force and closed up nearly every American manufacturing plant.
Many people blame the corporations for their greed-lust and their lack of patriotism, but that is because they never understood that corporations have but one duty under the law, and that is to provide the highest, legally earned profits for their shareholders that they can garner. Prior to the enactment of NAFTA, it was unprofitable to manufacture in foreign nations and export the products to the U.S. due to the tariffs and other trade protections that forced the retail cost of foreign-made products to be as expensive as the higher-quality American products being produced. But after NAFTA was signed into law, it would have been foolish (and arguably illegal) for any American corporate manufacturer to remain in the USA. NAFTA allowed American manufacturers to take their trade secrets and technology with them when they began manufacturing offshore, and that allowed them to produce products of the same quality as were made in the U.S. previously, but at a much lower cost. Thus, corporate profits soared, and so did the Stock Market.
The rise in the American Stock Market was misinterpreted by many to think America was just as prosperous after NAFTA as it was before NAFTA, but the profits produced were being earned in other nations instead of the U.S. In the meantime, Americans were being laid off here and there, and it was that gradual degradation of the American job market and the eventual downturn of the economy itself that escaped the attention of most Americans who blithely and ignorantly went to work every day thinking all was just as well as it had ever been. Nothing could be farther from the truth.
The enactment of NAFTA was similar to exploding a relatively small bomb inside a large dam. It created a small crack in our economy that didn't seem threatening at first, but the profits that once flowed to the United States and its people through investment and employment very gradually flowed through the NAFTA-caused cracks to benefit just about every other nation BUT the United States, and the American job losses have finally reached the point where every American knows several people who are unemployed and in dire financial straits. The negative effects of NAFTA took so long to manifest themselves (18 years) that few Americans realize today that it wasn't the housing bubble or big corporate and bank bail-outs that caused all this, but NAFTA.
You see, once people began losing jobs, they still had good credit and they still had credit cards, so it wasn't apparent to their neighbors that they were struggling. About that time, the housing bubble was beginning to brew, so many people who thought the job losses were just a hick-up that would pass began supplementing their income needs by filling up their credit cards and making very dangerous investments flipping houses, often refinancing the homes they lived in to the max so they had the cash to flip homes. But when the housing bubble burst, those same people were left holding real estate they couldn't flip, and because they had refinanced all the equity from their residential homes to come up with the down-payment cash on those shoddy, dangerous investments, they lost not only the homes they hoped to flip, but their own homes as well.
Next, here comes the Federal Reserve and the U.S. Government to bail out most of the banks and investment houses who faced complete financial annihilation because they were left holding all the properties being abandoned by the former individual investor/flippers to foreclosure. With high unemployment easily topping 20% in real life terms and a housing market flooded with foreclosed homes offered at ever dropping prices, the "regular" housing market prices are being depressed to compete for a dwindling number of qualified home buyers.
All this, every bit of it, stems from the enactment of NAFTA in 1994, and the water has been slipping through the cracks ever since, but at a faster and faster flow until we have finally reached the point most people only now realize the damage it caused. NAFTA started the whole thing. NAFTA gutted the United States of America, cost millions of jobs and the only beneficiaries of NAFTA were and are the multinational corporations, most of which were born and bred right here in the good ol' USA.
The powers that put NAFTA into motion are the same powers that are committed to seeing Mitt Romney succeed as the Republican nominee, because Romney is a big corporate guy and they know they can control Romney. Barack Obama has received millions of dollars in campaign contributions from multi-national corporations domiciled in the United States for exactly the same reasons. Both Obama and Romney are playing along with Wall Street, so the powers that be will be happy if either one wins. Ron Paul, however, scares Wall Street to death, and for very understandable reasons.
Ron Paul will stop all this nonsense in its tracks, IF he gets elected. There is a lot of money riding on this election because the very few wealthy 1% or whatever they want to be called, got that massive wealth as a direct result of the implementation of NAFTA, and they would like that trend to continue no matter what happens to the rest of the 99% left floundering in America.
If they only knew the truth, every Occupy Movement sympathizer would realize Ron Paul is the only candidate they NEED to vote for, regardless of who they think they want to vote for. Romney is prettier, so a lot of women will vote for him on that basis alone. Obama claims to be the champion of the Middle Class, and he's fooled a lot of liberals to support him at the same time he's accepting fat campaign checks from the same corporations the Occupy people want to burn down, yet the Occupy people largely support Obama anyway. No wonder they aren't getting any respect.
I just sent Ron Paul a check for $200.00. I hope he buys a decent bullet-proof vest with it, because I think he might need it.
Carl F. Worden
Liaison Officer
Southern Oregon Militia
January 14, 2012