I was at the mall today and while my wife shopped I went for my usual cup of coffee. As I passed a booth a young blonde woman stopped me. The following is the conversation that took place.
Me: Yes?
Salesgirl: Are you shopping for your wife?
Me: No, I'm going to get some coffee.
Salesgirl: Can I interest you in something for your wife?
Me: No, I already have her presents.
Salesgirl: If I may ask, what did you buy her?
Me: I got her some music she had been wanting and a gun.
Salesgirl: A what!?
Me: A gun.
(At this point the salesgirls eyes got so big her eyeballs could have fallen out of her head)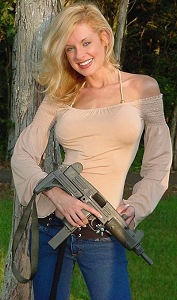 Salesgirl: Why would you buy her a present like that?
Me: Let me ask you a question? What are you trying to sell me?
Salesgirl: Makeup and perfume.
Me: Okay, if someone breaks into your home and wants to rape you, are you going to spray perfume in their eyes, or throw the bottle at them? Or would you rather have a gun and shoot the son of a bitch?
Salesgirl: That's kind of drastic isn't it?
Me: No, that's called being prepared. Have a nice day. (I then continued towards the coffee shop with a contented look on my face)
Neal Ross
December 11, 2011
If you wish to comment, please go to Neal's blog so that others may partake of your wit and your wisdom as well… http://www.zombie-slayer.com/neal