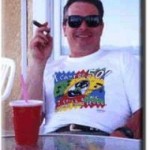 Well, boys & girls, I believe I can tell you how the Occupy Movement will, "progress", and we have relatively recent history to guide us. I would like to remind you that the SDS, the Students for a Democratic Society, eventually developed a splinter group calling themselves, "The Weathermen", who sabotaged, bombed and murdered indiscriminately because the base SDS movement just wasn't getting the results the splinter group of Weathermen thought should have been made.
The Occupy Movement is so filled with such a conglomeration of contradicting ideologies that it is hard to label it. Some see the real cause of the problems facing America, such as the free trade agreements that caused a massive hemorrhage of American family wage-paying jobs. The bailout of banks over the needs of citizens is also an accurate criticism and one most Americans agree with. Others in the Movement are just plain nuts, wanting jobs if they want them, but also demanding the United States provide for them if they don't wish to work. They demand more social programs instead of fewer, and some even espouse the concept of Communism as an alternative to our Constitutional Republic. For the most part, most Americans don't really know what exactly the Occupy Movement wants, other than to disrupt and scream and camp out in public parks. But let me assure you there is a sub-group within the Occupy Movement that will eventually follow the lead of the Weathermen.
President John F. Kennedy once observed an oft forgotten aspect of human nature when he said: "Those who make peaceful resolution impossible will make violent revolution inevitable". There have been several instances where police resorted to vicious brutality as when a college police officer sprayed pepper spray directly into the faces of Occupy protesters who refused to move, but were peacefully protesting arm-in-arm while sitting on the curb. Actions like that galvanize certain individuals to begin fighting fire with fire. The SDS movement witnessed similar treatment, culminating with an incident at Kent State College where National Guard troops were pummeled with rocks and bottles and began shooting the protesters down. Several young college students were shot dead and wounded in the exchange, and I have always contended that it was that incident more than any others that gave the go-ahead signal to the Weathermen to begin their campaign of terror.
The one thing I can easily predict is that the people who will form a Weathermen-type terror group from within the Occupy Movement will be the most radical and dangerous of them all. Mark my words.
Carl F. Worden
Liaison Officer
Southern Oregon Militia
December 3, 2011