Ladies, Gents and Transgenders! I give you the world's greatest magic act, Baraka Hussein, the Wizard of O! Please welcome the Wizard!
(Audience goes wild. Bamster walks out in his tux and a giant red Johnny Carson turban, smiling like a Cheshire Cat. Women and gays faint from watching his pants crease.).
Act I. The Arab Spring.
Announcer: "For O'Wizard's first trick he will destabilize the Middle East! (More applause). Starting with a spontaneous out-of-nowhere united mass uprising called The Arab Spring!
"Maestro, a little Arabian Nights music, please!"
"Now watch. There's nothing up his sleeve — but a spontaneous Million Moo March explodes in Tahrir Square!"
(Band goes Ta Daa! Wild applause.)
"You can hear a million Arabs demanding peace, freedom and democracy!"
In Tahrir Square a million men — but not one single solitary woman — all chant: "Allahu Akbar! Allahu Akbar!"
O'Wizard: "The people of Egypt have spoken. We must listen to their demands."
New York Times: "What are they saying?"
O'Wizard: "They are saying 'Mubarak must go'!"
Liberal Media chant: "We hear a million peace-loving Arabs speaking in one voice! It's a spontaneous united People's Revolution! There aren't any reactionary Moo Bros in that crowd! You're not hearing those 'Allahu Akbar!' Chants."
(CBS News sends Lara Logan into the crowd with a TV crew. Logan gets gang-raped. Nobody covers the story.)
O'Wizard: "These are peace loving liberals!"
Liberal Media: "It's the Arab Spring! We can tell!"
(In Syria, Assad sends main battle tanks firing into crowds of Sunni rebels. Civil war breaks out in Libya. The mullahs in Tehran throw a party. Coptic churches start burning spontaneously in Egypt.)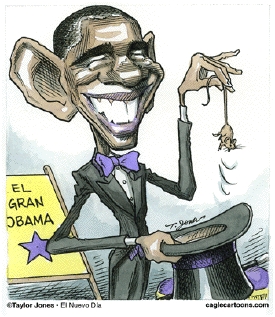 O'Wizard: "Mubarak must resign! Now means now!"
Mubarak: "But… but… I've kept the Egypt-Israeli Peace Treaty for thirty years! I've been America's ally for thirty years!"
(Mubarak resigns, has a heart attack, and is put on public trial behind bars in his hospital bed. The Moo Bros, Lefties, Al Qaida, and Adolf Ahmadinejad stand up and cheer.)
Behind the scenes Google Vice President Wael Ghanim has been pumping out thousands and thousands of Facebook messages, emails and tweets to the Egyptian demonstrators for months. 400,000 names have joined on Facebook. 360,000 people on his personal Facebook page, and 1,650,000 have joined Ghonim's "we are all khaled saeed". Every phony revolution needs a symbolic martyr. (Google and O'Wizard are joined at the hip.) Ghanim gets delirious puff pieces in Time magazine, the Washington Post, New York Times, Newsweek and other Soros fronts. Ghonim gets the JFK Profile in Courage Award. He is ranked the second most powerful Arab in the world in the magazine Arabian Business.
Jodie Evans and Bill Ayers have been in Egypt stirring up Moo crowds for months and months. They are working hand-in-hand with Hamas and the Turkish Bros, who staged the Gaza suicide stunt with the so-called Peace Flotilla, using leftist mediots around the world to pump out identical headlines.
Now get this.
Bottom Line Outcome: The Egypt-Israeli Peace Treaty has broken down after 30 years of peace. The Sinai Desert has sprouted hundreds, maybe thousands of terrorists. Four hundred Al Qaeda are now operating there. Across the border, terrorists kill Israelis in buses and cars.
The "Arab Spring" turns into a ferocious civil war in Egypt, Yemen, Bahrain, Syria, Tunisia, and Libya.
Not a single democracy comes out of the phony Arab Spring. But thousands and thousands of Arabs have died in the violence.
The Alinsky media say nothing about the real outcome.
Act II. Occupy Wall Street!
Announcer: And now, O'Wizard will magically create spontaneous Agit-Mobs in the United States! Watch his hands — nothing up his sleeve! Not even David Axelrod and his Astroturfers!
(Audience murmurs amazement. Media have premature immaculations in unison.)
Announcer: "Please hold your applause and let the Maestro concentrate…"
(Long drum roll….)
Suddenly Agit-Mobs explode on Wall Street, and around the country, then the world.
Trumpets: Ta Da!!!!
(Ten thousand simultaneous mediagasms.)
O'Wizard: "You can hear a million freedom-loving trust-fund kids demanding peace, freedom and democracy! No more filthy fat cats!!!"
New York Times: "What are they saying?"
O'Wizard: "They are saying the GOP must go! The people of America are rising up and demanding more taxes!! We must listen to the Voice of the People!"
Talking TV Heads: "Down with not-real-black guys like Herman Cain and not-real-women like Sarah Palin and Michele Bachmann! Plus all the Mormons and Texans! They are Un-American!"
On ABC "News" Diane Sawyer claims the anti-capitalist mobs have spread to "1,000 countries!" (There are less than 200 actual countries in the world.)
Mediot cameras zoom in on demonstrators smoking dope on Wall Street.
Mediot 1. "What is it you spontaneous united demonstrators really want?"
1st Dope fiend: "Ummm… du… mmm…"
2nd Dope fiend: "Peace! Freedom! Democracy!"
2nd Mediot: "But why are you out here protesting on Wall Street?"
1st Dope fiend: "Dhhhh…!"
2nd Dope fiend: "Down with capitalism!"
1st DF: "Down with …" (eyes roll up, falls over. Snores.).
Mediots (chanting in unison): "It's a spontaneous united demonstration against capitalism! Tax the Rich! Eat the Rich! But don't fork the rich, it's too good for them!"
George Soros, Warren Buffet and smiling peasant chorus: "We're rich! We want more taxes! Hear all the young people masses speak up spontaneously in unison!"
O'Wizard: "We must listen to the Youth of America."
Nancy Pelosi: "I support the message to the establishment, whether it's Wall Street, the political establishment … change has to happen…. people are angry!"
Wall Street Occupadistos: "We are the 99 percent! Listen to the Voice of the People!"
Liberal Media: "We hear a million peace-loving Young Socialists speaking in one voice! It's a spontaneous People's Revolution! There aren't any dangerous Tea Party conservatives in that crowd!"
Liberal Media: "It's the American Spring! We can tell!"
Think back to Tahrir Square.
Would you be surprised to find out that
1. Those Occupy Wall Street mobs were whipped up by a Canadian Lefto-PR outfit linked to George Soros?
2. That it's been in the works for months on the Moron Left?
3. That it goes back to the Left-Nazi alliance of the 1930s to sprout ant-Semitic "Jews own the world" signs?
4. That the Demagogue Party, Soros, Buffett, the HollyLeft, Bloomberg and all the usual suspects are suddenly joining the Wall Street Morons?
5. That Obama himself has suddenly discovered this spontaneous mass demonstration and explained to America that we have to listen to the Voice of the Real People?
Tahrir Square = Wall Street Phonymobs.
Arab Phony Spring = Obama's MoboCrat Election Campaign.
Nothing has changed since Marx, Lenin and Stalin, And Obama.
Not-A-Single-Thing.
The Left is not Progressive, but Retrogressive. They are reactionary, and they are in league with radical Muslim throwbacks, like Hamas, Turkey, and the Moo Bros.
Their methods go straight back to the running mobs and demagogues of ancient Rome and Athens.
Like Marx, Lenin, Stalin, Mao, and Saul Alinsky.
Obama is basically a mob demagogue.
Don't doubt for a second that violent street riots are now being organized.
Written by James Lewis and published in American Thinker, October 17, 2011
FAIR USE NOTICE: This site contains copyrighted material the use of which has not always been specifically authorized by the copyright owner. We are making such material available in our efforts to advance understanding of environmental, political, human rights, economic, democracy, scientific, and social justice issues, etc. We believe this constitutes a 'fair use' of any such copyrighted material as provided for in section 107 of the US Copyright Law. In accordance with Title 17 U.S.C. Section 107, the material on this site is distributed without profit to those who have expressed a prior interest in receiving the included information for research and educational purposes. For more information go to: http://www.law.cornell.edu/uscode/17/107.shtml