On Sept. 8, Barack Obama made yet another speech to a joint session of Congress. In it, he demanded that they pass his latest $447 billion "jobs" bill (i.e., Stimulus Jr.) "right away." It took weeks to write an actual bill and bring it to a vote, and, on Oct. 11, more than a month later, it went down in flames. While on the campaign trail, Obama defiantly declared that neither he nor "the American people" would "take 'no' for an answer." He chided Republicans for obstruction and challenged them to explain why they didn't want to create jobs. The Leftmedia happily repeated the charge that Republicans were to blame. The inconvenient truth, however, was that the Democrat-controlled Senate shot down his bill.
It's true that Republicans were united against the bill, but two Democrats joined them. And Republican leader Mitch McConnell (R-KY) actually pushed for the vote, not to obstruct it.
Republicans — and a few Democrats — realize that the president's plan won't work. If the first "stimulus" didn't come close to accomplishing its stated goals, how would half the money spent in much the same way do any better? We did the math and this new stimulus doesn't cut it. But that doesn't mean the Congressional Budget Office isn't trying feverishly to make it work.
The CBO determined this week that the millionaires' tax proposed by Democrats would supposedly cover the bill's $447 billion price tag. What the CBO doesn't account for is the loss in tax revenue that always occurs when the so-called rich get soaked. Small businesses cut back and investment capital heads overseas. Taxes change behavior.
Even a few Democrats are starting to see that the gig is up. Some people even think that Obama is cynically seeking to use Republicans' votes against them in 2012 — far fetched, we know. Even the Associated Press, normally a bastion of leftist propaganda, presented an unflattering analysis of Obama's bill and his recent performance as president. The AP observed that Obama is more motivated by campaigning than governing, so maybe they're finally coming around to what the rest of us have known for a long time.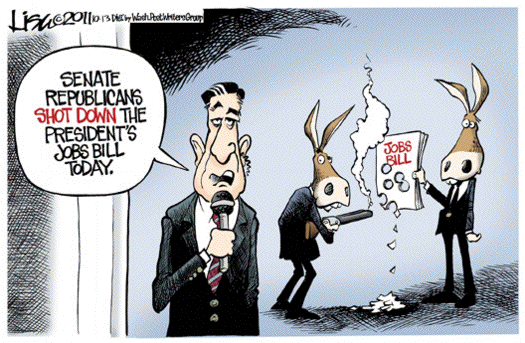 Meanwhile, Vice President Joe Biden is doing his part to strike fear into opponents of the bill. Campaigning in Flint, Michigan, Biden warned the crowd that if Congress doesn't spend hundreds of billions of dollars, it would lead to (even more) rampant rape and murder. "In 2008, when Flint had 265 sworn officers on their police force, there were 35 murders and 91 rapes in this city," Biden said. "In 2010, when Flint had only 144 police officers, the murder rate climbed to 65 and rapes — just to pick two categories — climbed to 229. In 2011, you now only have 125 shields. God only knows what the numbers will be this year for Flint if we don't rectify it." So why didn't the first stimulus save all those police jobs?
On the other hand, Bill Clinton is warning that the tax increases in Obama's bill are a bad idea in this economy. "Should you raise taxes on anybody today — rich or poor or middle class?" Clinton asked rhetorically. "No, because there's no growth in the economy." Oddly enough, he didn't comment on rape and murder rates.
Obama remains undeterred. In fact, he told supporters, "We're not gonna wait for Congress." He said he had given his instructions to his advisers: "Scour this report, identify all those areas in which we can act administratively without additional congressional authorization and just get it done. Anything that's within our authority to do as an administration we start doing immediately, and we don't wait for Congress." Hey, it's not like this is a constitutional republic.
One final note: Obama has added even more obfuscation to his "saved or created" metric for jobs. The White House now measures stimulus results with the utterly immeasurable word "supported." Based on his all-encompassing view of government, every job qualifies under that rubric.
SOURCE: Patriot Post, October 14, 2011.
FAIR USE NOTICE: This site contains copyrighted material the use of which has not always been specifically authorized by the copyright owner. We are making such material available in our efforts to advance understanding of environmental, political, human rights, economic, democracy, scientific, and social justice issues, etc. We believe this constitutes a 'fair use' of any such copyrighted material as provided for in section 107 of the US Copyright Law. In accordance with Title 17 U.S.C. Section 107, the material on this site is distributed without profit to those who have expressed a prior interest in receiving the included information for research and educational purposes. For more information go to: http://www.law.cornell.edu/uscode/17/107.shtml