Girly men love to hold meetings. To a girly man, attending a meeting is equivalent to an average guy getting a nut. They salivate at the thought of holding a meeting where they can show off all of their nonsensical ideas and witless theories.
They've never had to work or sacrifice. They have never had to act to secure our liberty.
They know of no life outside of the climate of their classroom.

They are the anomalous, geeky children of the elite.
Only they know best, so they think, as they try to shove their failed Socialist ideas down our throats. Therefore, meetings, committees, commissions, and speeches, are the mothers milk of these worthless creeps. Angry White Male and the Horse He Rode In On – Rick Biesada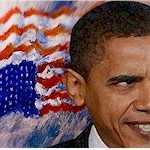 I'm speechless. Twenty million Americans out of work and this president plans on making a speech. Another boring, meaningless speech? As far as I'm concerned, he can speak to the hand.
There were zero employees added to the economy in August, an alarming set back for the economy which renewed fears of another recession, manipulated by this out of control government using retarded methods for recovery, instead of focusing on increasing the economy over the past 2 1/2 years.
Millions of unemployed American's sit idle this Labor Day weekend while the pundits are all chirping about President Dumbo's Big Speech on jobs this week.
Oh Fudge! Not another speech?
Traditionally, American's would be out celebrating the last holiday of the summer season, but this year not too many can afford to, or the high cost of government manipulated fuel prices to make a road trip.
With such a frustrated population the political theater will now switch gears to jobs. Jobs, Jobs, Jobs! That's the latest mantra coming out of Washington D.C. lately, and only an idiot would believe that the man who wrecked the economy, would now be making a speech to put Humpty Dumpty back together again.
This is the same nincompoop who circumvented our democratic process of Constitutional law, and is hell bent on destroying our economy by every indication of his actions.
Obama is inept, and his entire administration is a collection of inexperienced, or anti American Socialist neophytes, trying to turn the United States of America into a third world, totalitarian cess-pool.
This is the problem that I see with this bunch of high IQ assholes sitting around a conference table discussing things that they have no knowledge about, based on practical experience.
The only experienced members of the Obama team are Bill Daley, a shyster Chicago bag man, and Jeff Immelt.
Jeff Immelt heads Obama's Jobs Council. He is the chairman of the board and chief executive officer of General Electric. Mr. Immelt is trying to solve our jobs problem by shipping our jobs overseas to China.
GE has just announced that it is moving it's 115 year old X Ray business to Beijing. Under Immelt, GE has shipped tens of thousands of good jobs out of the United States, according to "The Economic Collapse."
Now you can see that we are wading in some deep economic crap, shepherded by inexperienced geek's, or greedy consultants, grabbing the lions share of the good jobs for their own self interest.
This is the reason why the pundits are covering for Obama and expressing an urgency for him to "Go Big," with his speech.
Go Big – that's code for more bullshit, instead of the usual habitual lying that Obama is caught doing but never held accountable by our watch dog media protectors.
Yeah, the great orator got himself into a jam as the chickens come home to roost. Obama's re election hangs in the balance of his big speech, or plan B … which is Obama being portrayed as a victim of racism, as the Black Caucus breaks open a fresh deck of race cards over the Tea Party's head.
The media doesn't want us to know that this president has actually created jobs but not here in the United States, where he suffocated the market while leaving the unemployed only with an opportunity to hear his speech.
This president has actually killed our job market while creating jobs in China, the Middle East, Canada, Brazil, Mexico, and Europe while his Keynesian economic model ripped off the United States treasury, and sucked the life's blood out of any beneficial jobs program here.
Therefore, he needs to throw a big Hail Mary speech, or rely on the Black Caucus and the progressive Democrats to place the blame where it doesn't belong … on the Tea Party.
Covertly place the blame on the law abiding citizens who want to see government reform, and a government restored to it's original intent of a Constitutional Republic, not an unruly mob, but the real, authentic racists in this administration, want to use them for the political chicanery of victim hood, and intimidation.
The Congressional Black Caucus seems to be inciting a race war by declaring war on the Tea party.
Failing to drum up support for Obama in the form of victim hood of racial hatred the CBC is now trying to promote racial violence against the Tea Party.
"The Tea Party wants to lynch Blacks," according to Indiana Congressman Andre Carson without any corroborating evidence.
California Congresswoman Maxine Waters stated that she would like to see the Tea party go straight to Hell, to a group of supporters at a summit in Inglewood California last week.
It is getting hard to defend this megalomaniacle maniac, as we can surmise by the abundance of fear and intimidation being spread by the Chicago Way Machine, and the Socialist Progressive Democrat's who are trying to keep him in power to dismantle our heritage.
You don't have to be a rocket scientist to figure out where all of these flash mob assaults are coming from, or why Black youths are targeting Whitey as their victims.
The Black Panther Party is at it again holding survival demonstrations for their mis guided youth.
King Samir Shabazz, one of the New Black Panther members, accused of voter intimidation in Philadelphia on election day 2008, and was not prosecuted by our justice department, was taped giving survival instructions to a crowd of Black youth.
Shabazz used a hand gun, a machete, and a baseball bat, as training aids before he went into a rant against Whitey.
He asks the audience if they love being Black. They respond by screams of, "Yes, Black Power."
"Will you die being Black?"
"Yes, Black Power."
"Are you ready for Black?"
"Yes, Black Power," was the response from this audience who is waiting for their Messiah to provide them with Green, or Government jobs.
This kind of stuff should not be allowed even in our free society, it is harmful teaching and President Obama needs to address this criminal behavior in his big speech.
Naturally, some courageous Congressmen are frustrated with this tyrannical president and are tired of listening to his bullshit, and flat out lies.
Illinois Congressman, Joe Walsh is one of these guys who hate to provide cover for this do nothing president, so he has decided to stay home and work in his District instead of listening to the big speech.
Walsh's action has drawn kudos from his heavily patriotic base of supporters, and disdain from the Obama, linguini-spined, state run media propaganda outlets.
Walsh feels disgusted over Obama's constant lying, so he will remain in his district and participate in a jobs program rather than being used as back round for another bloviating session of bullshit. ( My words not his )
What is so flagrantly diabolical here is that the media takes Joe Walsh to task every time he points out one of Obama's lies. He is merely calling a spade a spade, to use a shovel ready analogy of Obama lies, but the media is too entrenched, or complicit, to illustrate the true facts.
They act like the guy whose wife catches him in bed with a hooker.
He jumps out of bed and exclaims: "That wasn't me … who do you believe, me, or your lying eyes?"
We have a big problem, and this guy is the cause of it.
No wonder why all of the worthless pundits are clamoring for Obama to go big!
These kind of problems are too big to cover.
Eventually, it's going to be go around, come around time for our great orator.
Maybe instead of going big … he should just GO!
September 4, 2011
~ About the Author ~

Federal Observer contributing columnist Rick Biesada hosts Perspectives On Our Heritage – The Angry White Male Hour over Radio Station WJJG 1530 AM, Chicago's Hometown station, Wednesdays from 4:00 to 5:00 PM Central Time, which can now be heard LIVE on the net at http://www.wjjgam1530.com. Rick is the co-founder of The Chicago Minuteman Project.
Angry White Male and The Horse He Rode In On by Rick Biesada can be special ordered through most book stores, or through the publisher at wholesale price off of the Angry White Male web site at http://www.stylefeeder.com/i/pf0v5r2j/Angry-White-Male-And-The-Horse-He-Rode-In-On-By-Rick-Biesada-Paperback.