I have much to write about the recent repeal by Obama and congress of "Dont ask, Don't tell." (DADT). I will be writing from personal experience with homos and will explain things which will definitely happen if and when they cab serve openly.
There is plenty of time for input from interested parties to our elected officials, who could rescind the repeal law just passed and signed by Obama, when the new congress convenes in January!
The homos are rejoicing thinking the change will happen soon. WRONG! First the Department of Defense (DOD) has to certify to the president that implementing the new law will cause "no disruption in combat efficiency." They are in no hurry to do that, if they are forced to support the new law – and they are – then they want to get it right. But there is "no such thing as getting it rightt" in mixing homosexuals with straight men. It will NOT work and as time permits I will spell out why.
Even after DOD certifies, which could take a year of more, the new law requires a 60 day waiting period before implementation. The other side of the coin will be heard from during this delay – loud and clear – and I will be one voice.
Polls of our military personnel show the majority favor gays serving openly. This is all branches and all military specialties. Cooks, pencil pushers and frontline combat troops.
Such a mixed bag group have voted about 70% for them to serve. But most of these have very nice living conditions. All branches have been building new housing for single men and women. Each unit for two people, each with a bedroom, then they share a living room, kitchen, bathroom, etc. Quite comfortable living, and applies to ship crews when in port. Instead of being confined to the ship except on liberty, and often with a midnight curfew which was policy of old. They only have to stay aboard ship when they are in the duty section, probably three section.
Contrast this to the men in Afghanistan and combat units in Iraq, South Korea and other places. The Marines voted 58% , and the Army 48% against open serving homos.
There is no comparing their service to the others I just mentioned. These combat troops man not have had a shower/bath in a couple of weeks or more, and a hot meal is a once n awhile, otherwise it is MREs. (meals, ready to eat). Also being killed on any given day is a real possibility.
This is a vast and complex subject, understood by relatively few. For example, they cite surveys that show the majority of American people are in favor or allowing homos to serve openly. I say screw them. What right do they have to an opinion on the subject? NONE.
Only men and women who have had say three or more years of military service are fit to render an opinion. If you were facing a delicate life threatening brain surgery – would you want MY opinion on the procedure? I think NOT, as I would know nothing about the subject.
The same with civilians with no military service. That includes the two Republican female members of congress from New England who voted for the new bill.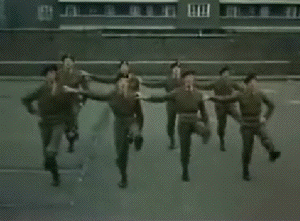 There is much, much more to say on the subject. And some of what I have to say will surprise you. I'll explain why many homos will be killed if serving openly. Right now DADT provides them protection. You would not want to kill a man, just because you "think" he is a homo.
If anyone wants to know what the key is for homos to serve openly – and survive, it is that they do not make any attempt to hit on a fellow serviceman. if they do, and they pick on the wrong guy, me for example in WWII – they could have some life terminating event.
Much more to follow,
Now take a careful read of the following, and this is just the beginning.
Big Al