September 3, 2009 – I wonder, do people think that I have always been some kind of right-wing radical who does nothing but spew quotes from our founding fathers? I hate to burst their bubble, but up until around 1990 I was just as average as the next guy.
Prior to the Presidency of George H.W. Bush, I was just like you, a typical American who was absorbed in my own life, oblivious to what my government was doing. In fact, I was more than oblivious, I just didn't care.
Sure I voted, but all I did was cast my vote straight down the party line. I was a tried and true Republican who stood behind his party, win or lose. I was a mindless sheep who did not make an effort to think on his own. I mean why bother, the Republican Party was thinking for me.
My disdain for all things political was so pervasive that any time there was something on television pertaining to our government, I would change the channel. Obviously, all that has changed.

Now I pay close attention to the actions of my government, both state and national. It took some time, but I have developed the habit of actually thinking about what is being said and mentally comparing it what the Constitution authorizes our government to do.
What I usually find is that most of the time these people who have taken an oath to uphold the Constitution, are in fact quite openly showing that they have no intention of doing so. In the Book of Matthew, Christ states, "Wherefore by their fruits ye shall know them." The same holds true for those we elect.

Well my friends, by the fruits of those who have been elected to represent me, and at the same time uphold the Constitution, I do know them, and I do not like what I have discovered.
Our nation's capital has been filled with liars, thieves, schemers, manipulators, and other sundry scoundrels who care nothing for what is right, only for their re-election. They serve the masters who pull their strings. They will do or say anything which appears to appease the publics concern, then turn right around and do just the opposite. I trust them to do what is right less than I would trust a pedophile to baby sit my child.
That is why I find the following more than a bit disturbing. On September 8th President, (I still gag when I have to say that) Obama is going to address every single school child America. That's right, live from the Whitehouse website President Obama is going to instill his own unique brand of motivation into our children in an effort to keep them in school, and instill in them a desire to succeed.
From a letter posted on the U.S. Department of Education's website, and subsequently made available to the readers of The Federal Observer, we read, "This is the first time an American president has spoken directly to the nation's school children about persisting and succeeding in school. We encourage you to use this historic moment to help your students get focused and begin the school year strong."
So many questions ran through my head as I heard about this. Why is he doing this, and what is he going to say being among them. I have heard, but have not been able to verify, that this will be a mandatory viewing. That means, if your kid is in school that day they will no choice but to sit through the Presidents speech. Therefore, if you wish to spare your child from hearing this speech I would recommend you keep them home that day. Or better yet, take a day off from work so that you can be there to provide a little unbiased feedback to what he has to say. (I'm sure the teachers will enjoy your comments)
This entire thing conjures up so many images, most of them unpleasant, and most of them very similar to the Hitler Youth.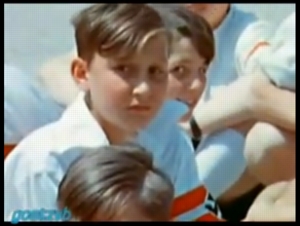 Don't get me wrong, I am of the firm belief that education is important. I only believe that our educational system is not doing it's job, and I do not think that the President, has the right, nor the authority to invade our classrooms to instill his personal vision of education, (and who knows what else) upon our children.
I just know that if I had a child in the public school system, I would have been on the phone to my local superintendent of schools the moment I heard about this. But that is just me.
I truly believe that our public school system is, and has been, graduating children who are incapable of thinking on their own. They are taught to memorize facts and figures, but not how to think.
My son just graduated from high school last year and he is starting college now. I have first hand experience at how our public schools have failed our kids. I would like to share of few of those experiences with you now.
As soon as my wife began showing the outward appearances of being pregnant I would lay in bed and read to her tummy. Yet during those last four months I read the entire Dr. Seuss collection to my son while he was still inside the womb.

After he was born, and he was old enough to sit upright on his own, my wife began using home made flashcards to teach him the alphabet and numbers. By the time my son was 3 he was reading on his own, and not just simple books. He was reading Disney stories like Pinocchio and the Jungle Book.
I remember a conversation I had with his kindergarten teacher at open house. She told me that my son was really bright, that he could count really high. Playing the dumb proud parent I said, "Oh yeah, let me see what he has been doing." So the teacher called my son over and scribbled a number down on a piece of paper. I think it was something like 23. She then told my son to read it aloud. He did, and she turned to me beaming, and said, "See, I told you he was bright."
I politely asked the teacher for the slip of paper and said, watch this. I scribbled down the first eight or nine random digits that came to mind. Then I said, "Watch this." I told my son to read it.
I honestly thought the teacher expected him to read each number individually. I wish I had had a camera on hand to capture her expression when my son said, "Eight hundred seventy two million, three hundred sixty-two thousand, five hundred forty nine," or something to that effect.
Her jaw must have dropped halfway to her belly button. It was just inconceivable to her that a child in kindergarten could count past one hundred. Yet it is only because we took an active role in preparing him for school that he was able to do so.
When my son was in middle school I got a phone call from his math teacher, he requested a parent teacher conference, and I went there prepared for the worst. When I arrived he began by saying that they issue dry erase blackboards to the students to do their algebra equations on.
My son had been sitting in class drawing cartoons. I guess by my expression the teacher knew I was prepared to go home and lecture my son about the importance of paying attention in school.
He then continued by saying that at the end of each class he put up 10 algebra problems for the homework assignment that evening. My son would walk up to the blackboard and squint up at the blackboard while writing on a piece of paper. His teacher thought that maybe he needed glasses until one day he walked over and peeked over his shoulder. My son was doing the algebra equations in his head and writing the answers down on the paper.
One other time in elementary school we had gotten a note in the mail from the principal. She wanted to see my wife and I in her office. When we arrived her concern was that my son may have Attention Deficit Disorder, and she wanted us to see a shrink and possibly put him on medication.

I balked at the idea, not wanting my son to become a zombie. The teacher told us that if my son did not see a shrink that he would have to be suspended for his lack of attention in class. On the grounds that no medication would be forced upon my son, I agreed.
The shrink we went to was one of the schools choosing and he seemed very pleasant. He had wanted to see all three of us together, so he could observe my son. He asked a few questions and then asked my son to go outside and wait.

When my son left the room he told us that he didn't think that there was anything wrong with my son, but he would have to run a test to be sure. I thought, oh crap, blood work or something else. I guess he saw my concern, because he said, this should be quite painless and simple. He then walked over to the door and said, "Chris, close your eyes and hold my hand. I am going to walk you back over to where your parents are sitting."
He brought my son back over and sat him down. My son thought this was a game, so he kept his eyes closed the whole time. The doctor then asked my son a series of questions, how many windows were in his office, how many bookcases were there, and where was his desk. My son answered them all correctly.
The doctor then said that there wasn't a damn thing wrong with my son other than the fact that he was bored to death in class. He continued by saying that our son probably held an above average intellect and that the public school system is not designed to deal with this type child.
Then he told me something shocking. He said that in fact, the schools today are producing graduates with far fewer skills today than they were twenty years ago. They have had to do this because the students coming into the school are often deficient in their ability to speak English, and therefore behind the curve. He also said that the style of teaching they use only teaches children to memorize facts, not to actually use their brains for processing the information. In other words our schools are filling their minds with information, without teaching them how to use it.
In 2002 President Bush signed into law the No Child Left Behind Act. This bill was designed to set standards for which schools are to be held accountable for meeting, and improving upon, if they wish to continue receiving federal funding.

First of all the government has no constitutional authority to dictate to schools what they will teach our students. This country used to have the best educational system in the world until they started tinkering with it.
I remember when they instituted the curve for grading. Even as a youth I wondered how they could call it fair that only a certain percentage of kids could get an A, even if they got more than 90% of the answers correct. I also wondered how it could accurately record how well the students learned the information when a student could still get an 'A', even if the entire class only got less than 50% of the answers correct.
Our educational system is just another example of how our government is trying to level things off so that all people are equal in life. They refuse to accept the fact that some kids are brighter than others, and that they will always learn more, and learn it quicker than others.
I don't care how many tax dollars are spent on education, we will still continue to produce kids who can't think until we once again return to the basics. Do away with the unnecessary classes and stick with the essentials, reading, writing, arithmetic, sciences, and history.
I also don't think we need our President butting his nose into our classrooms giving our students a pep talk, and whatever other propaganda he has in store.
Kids need to go to school prepared to learn. That is the role of parents and we need to make sure we are doing it properly. We also need to demand that our schools once again become places of learning, not social gathering areas where they can share files from their Ipod's, send each other text messages, and end up graduating unable to formulate a coherent thought.
If our schools really were teaching our kids what they need to learn, the kids themselves would be asking the question, "What the hell is President Obama doing wasting my time here when I have things to learn?"
Live your life in such a way that when your feet hit the floor in the morning, Satan shudders and says "OH SHIT!!…. HE'S AWAKE!!"
"Is life so dear, or peace so sweet, as to be purchased at the price of chains and slavery?"
~ The Author ~

Neal Ross can be reached for comments at bonsai@syix.com. Visit Neal's Blog at http://www.zombie-slayer.com/neal