February 17, 2009 – Today AKA is going to make another of his theatrical appearances to showcase his part in the destruction of America.  Naw, it won't be billed as that because TRUTH is something that has disappeared in American politics with the full assistance of the MSM, including those talking heads who are labeled as right wingers or conservatives.  They are neither when you examine their works.  They are there to redirect the sheep to make it look like they are opposing but the truth is they are just taking a slightly different path to the same destination.
Hillary is over in the Western Pacific area reading her script before the MSM cameras and microphones.  Telling those folks that we all have to 'work together'  to solve the *Global Crisis*.  Excuse me, but just who caused this *Global Crisis*? It was the Globalists –  the same ones who are pretending to have the solutions to lead us out of the mess they created.  If you believe that the Globalists are going to solve this then you might as well stop reading because you still haven't caught onto what is going on and I doubt you ever will.
When the AKA monster DEBT plan fails will he then issue another of his *I Screwed up* comments and move onto the next disaster he has on the agenda for America?  That is how AKA operates.  He dodges, he lies, he ignores, he refuses to acknowledge, he kicks off or out those who raise any honest questions, and if he flat out gets CAUGHT in his magicians trick he simply sits and says, "I Screwed Up", as though he just spilled a drink on someone.  By that time the damage is done and he moves on to another item to destroy.
Many of us have joked about how AKA plays up his *LINCOLN* game and how a trip to the theatre could save America.  However, because of how I believe this is a spiritual play taking place, I see the ending of the trip to the theatre as America being the target, not AKA.  And even if something did happen to AKA there would be another demonic controlled entity replace him.
All these things that so many sit back watching, mouths open and chins hitting the floor, in disbelief that so much can just be ignored by the courts and those who should be the guardians of this nation…  to those I say this……   Get out your Bibles and READ IT.  All of this is written about in that one book.  You need to read and DISCERN what is going on all around you and maybe YOU are part and parcel of the push towards the OWO and the rule by the Anti-Christ.
America has allowed the spiritual base of America to be all but destroyed (there will always be a remnant) and I hear and read many who still repeat the phrase, "God Bless America".  If you are a Christian and you still say that then you really need to read your Bible again so that you can understand that God is NOT going to Bless this land that has kicked him out of everything.  Scripture is clear on what happens to a nation that rebukes God.  America is now beginning to experience the consequences of what Americans have sat by and allowed to happen.  The only thing that will 'save' America is REPENTANCE and I just don't see that happening at this point.  Not saying it won't happen – I just think the spiritual core has been compromised to such a point that we have passed the turning back point.
I have written in the past of ways to pray and the authority a true Believer in Christ has (the mustard seed amount of Faith).  Some of you already know that and pray in that manner.  Others simply use a string of beads (I have yet to find reference to doing that in the Bible) or pray to someone other than God (I haven't found that in my Bible either).  My God is a jealous God and He has set forth very clear Commandments for His people to follow and obey.  If you aren't obeying His Word then whose word is it you are obeying?
There are only two sides in this world.  God, the Creator, is one.  The other one is Satan.  There is no third string or team to play on, folks.  You are either on one or the other.  On Judgement Day you will not be allowed to lay blame for your failures/sins on anyone else.  You and YOU alone will be held accountable (a strange thing for earthlings who have grown used to never being held accountable for anything as it is always *societies* fault) and the 'thumbs ups' or 'thumbs down' will have no place to appeal to.  You will either spend eternity with Christ or with Satan.  There is no other place.
Many think they have time to make that decision.  Each person has up to the moment BEFORE they draw their last breath.  Once you breathe your last breath it is too late, in spite of those religions that teach you can save some soul by lighting candles or doing some other earthly act.  No one else is going to stand in your stead on Judgement Day.  Christ stood in our stead when they nailed him to the Cross.  That is not going to happen again.  No more animal or human sacrifices –  each individual will be held personally accountable and responsible for what they do or don't do.
Scripture tells us, "Woe to those who lead others astray."  Going to be a lot of Rick Warren types who will pay their price for what they are doing but those who willingly follow the Rick Warren types aren't going to be excused.  There are too many Bibles (a KJV with a concordance is a great start) and too many sources to learn from so laying blame on a preacher or such won't fly on Judgement Day.  When in doubt – READ THE MANUAL set forth by the Creator.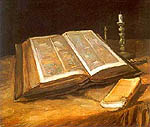 Many of us write about *Big Brother* constantly spying, tracking, listening, to us via all the technology that has been created to do so.  I see it all as Satan trying to mimic what God has always done.  God knows all we do, think, say, etc.  Satan wants to be God so he has put forth technology to try to do what God has always done.  While I oppose the technology of Satan I understand and accept that God knows all I do at all times.  I have long had a constant companion with me.  Others may not see Him but I know He is with me at all times.  Everything I say, think, do is witnessed by Him.  Do I stumble and miss the mark?  Oh yes, every day, but I am not perfect and He knows that and He knows my heart.  I have no idea how I will be judged on Judgement Day but I STRIVE to please Him.
If I do nothing else I hope that what I write will cause at least one person to make the decision to change their life to the better.  Read  John 3:3  and John 3:7 if you don't know what I am saying.
Remember,  the actions we are observing and fighting were all written about long ago and the enemy is the same enemy those who lived long ago were fighting.  The field of warfare may have changed but not the combatants.  It is still spiritual war we are fighting – never forget that point.  Eph. 6:12
It isn't who 'you' are –  It is WHOSE you are ! ! ! !
~ The Author ~
Jackie Juntti (Granny) is a daily reader and frequent contributor to the Federal Observer. In addition, she can usually be found between 8:00 and 9:00 p.m. (ET) in the Chat Room of Perspectives on America, as a participant of the Editor/Publishers' nightly broadcast on Liberty Radio Live.com. She can be reached for comment at idzrus@earthlink.net.